Expert news and insights for scientific & technology professionals.
The Life Science Industry Blog for R&D Professionals
6 Imperatives for the Digital Transformation of your Quality Management Function
A Digital Quality Management Framework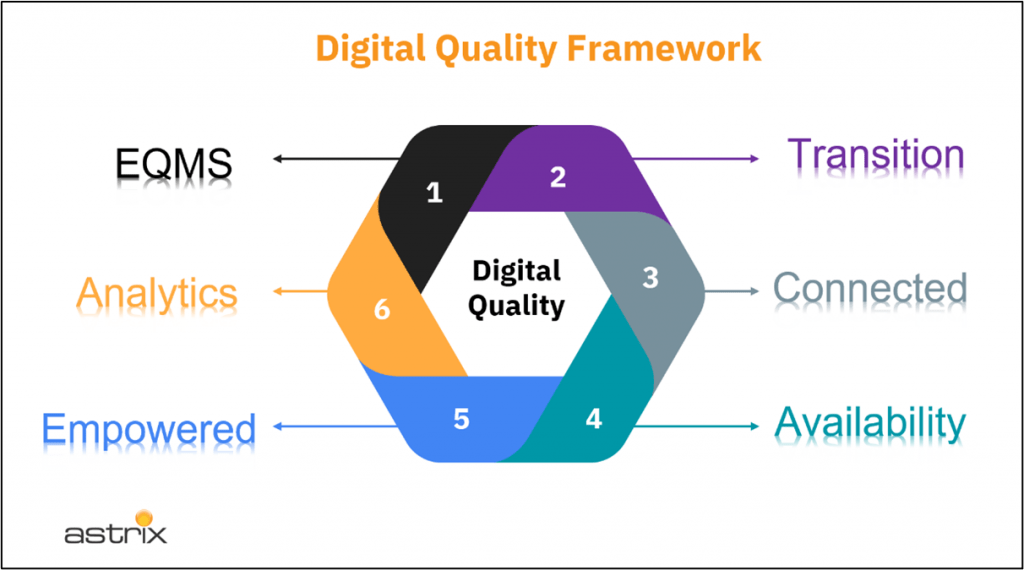 The ultimate goal of Quality Management is the protection and safety of patients along with ensuring product quality and maintaining data integrity. Given the significant regulatory and technology changes that continue to occur, it is essential that organizations optimize their quality function. To that end, there are 6 key imperatives that we believe should be considered.
1. EQMS
An Enterprise Quality Management System (EQMS) is a critical component to any digital quality framework. The objective of EQMS is to manage content and business processes for quality and compliance across the value chain. It is a platform for quality management that integrates with the IT architecture and data model and facilitates cross-functional communication and collaboration.
It is essential that the EQMS is not siloed. Quality information should be collected as data and leveraged across the organization to make informed decisions.
The EQMS has to also have an interface to other systems whether it is ERP, PLM,  supplier quality, vendor management, or other enterprise systems integral to the organization. Those interfaces are critical because that is where data resides, and access to that data is vital for decision making.
EQMS also needs to be mobile. It can't be at one particular location or region or within one area. The EQMS has to provide the ability to look at data wherever, whenever, and however needed.
2. Transition
A second imperative of reaching an optimized digital quality transformation, is that the company and quality organization shift from a "deliverable mindset" to a "data mindset". Quality organizations have always been recognized as only focused on deliverables (chasing down the elusive "approvals" on deliverables). Although this is an extremely important aspect of the quality organization's mission, when thinking about transition, about the focus should not be the deliverables but the actual data that is driving a lot of those deliverables. There's a huge amount of efficiencies and improvements that can be identified and focused on by transitioning to a data mindset. The data will actually be available once a centralized data model has been established and implemented. Organizations have to move away from the data residing across multiple silos across the quality organization (i.e. business quality data,  IT quality data, product quality data, and supplier quality data) to a centralized data model. This centralized data model provides for additional and better access for not only internal use,  but possibly for even customers and vendors.
3. Connected
Systems across the enterprise need to be connected. Silos between systems have to be bridged with the goal of establishing an interoperability of data and not limited to one aspect of data – supplier data, product data, process data, metrics. Everything has to be linked and available seamlessly. The lack of a holistic picture or view of that data will potentially lead to  imperfect business decisions.
90% of products in compliance with your EQMS is where organizations should aim to be. This aim has a direct impact on the reduction of cost of poor quality. Based on recent studies, there is  at least a 2% to 5% drop in the cost of poor quality once an EQMS implementation has been started and connectivity is established between key systems.
4. Availability
In many companies data is held as though it is an asset only accessible on a need to know basis. That needs to change in order to be successful in  any digital quality optimization endeavor. Organizations / systems have to be able to provide data based on a person's role, process area, location, or other criteria.  Everyone has to have access to that data. There is a marked jump in efficiencies and process compliance once the data silos are diminished or disintegrated, primarily because  people are making assessments with the data they need to have in order to make those critical decisions.
5. Empowered
By providing the availability of the data across the organization, employees and other support staff are empowered. Providing them the technology and tools to make the right decisions or access to data across the organization is helping them make the right decisions. This also leads to optimizing current processes to help drive better decision making and reducing the cost of quality.
6. Analytics
Analytics is an essential part of the framework to gain insights from an organization's data. Analytics provides a means to understand the data structures and locations in an effort to enable organizations to transition from a reactive to proactive approach. With a proactive approach, decisions made based on data that is available for processes that can help avoid quality incidents. That can prevent, for example, a CAPA or nonconformance. Being proactive also means, having the ability to spot and analyze trends.
Conclusion
To achieve a successful digital quality structure, data needs to be at the center of business decision making. An EQMS can help manage content and business processes for quality and compliance across the value chain. The data needs to be available to everyone that requires access and employees need to feel empowered to leverage that data. Ensuring that all systems are linked together will prevent cases of data duplication and hence, errors. And finally analytics should be leveraged to transform the quality organization from being reactive to becoming more proactive .
Why it Matters to You
Many companies are making the digital transformation of the quality function a top priority. The reason is that this provides some significant benefits to the organization
It's enabling better protection and safety of patients
Organizations are able to improve product quality and data integrity.
By leveraging new technologies, the quality function can focus on other important priorities.
By empowering its people, the quality function can have improved and faster results.
For more ideas and information on digital transformation of your quality organization, you can watch our webinar on Driving Growth through Digital Quality and Compliance
About Astrix
For over 25 years, Astrix has been a market-leader in dedicated digital transformation & dedicated staffing services for science-based businesses.  Through our proven laboratory informatics, digital quality & compliance, and scientific staffing services we deliver the highly specialized people, processes, and technology to fundamentally transform how science-based businesses operate.  Astrix was founded by scientists to solve the unique challenges which science-based businesses face in the laboratory and beyond.  We're dedicated to helping our clients speed & improve scientific outcomes to help people everywhere.