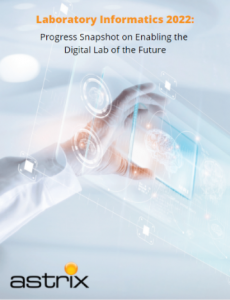 Astrix 2022 Digital Lab of the Future Enablement Survey
The Laboratory Informatics 2022 Report will provide an important snapshot of the progress that Development, Pathology, QC, Reference, Research, and Testing laboratories have achieved toward realizing the potential of the fully digital lab of the future.
Participation is 100% anonymous, confidential, and your responses will not be shared or sold.   
Astrix Webinar – How to Maximize NuGenesis SDMS as your Central Location for Analytical Data
Date:  March 23rd, 2022
Time:  1:00 PM EST / 10:00 AM PST
In this webinar we will discuss:
What is SDMS and how it can simplify your data management and distribution burden.
Things to consider when implementing NuGenesis SDMS.
Consolidation of data from multiple silos into centralized location and its advantages.
NuGenesis SDMS data reuse and distribution possibilities.
New Podcast: Next-Level Digital Transformation – Reimagining What's Possible
Everyone pursues digital transformation but many fail to fully realize its potential. Why is this? More urgently, though, what can you do to avoid both the buyer's remorse and frustration that follows so many efforts at modernization via automation?
The Astrix Innovators Forum
Insight-driven Discussions to Realize the Laboratory of the Future
As an important part of our 26-year leadership role to empower innovations in science and medicine by providing laboratory informatics solutions that digitally transform operations into labs of the future, Astrix supports professionals in their ongoing effort to achieve operational excellence through optimized laboratory informatics.
Upcoming Webcast with Scitara
Accelerating Data Integration Through Tech Enablement
Date:  March 10, 2022 1:00 EST
Company:  Scitara
Presenter:  Dave Levy, Global Product Director, Scitara
Astrix On-Demand Webinar
Unleash the Power of SampleManager 21.0
Follow our popular LinkedIn page for great articles and insights on Lab Technology