Expert news and insights for scientific & technology professionals.
The Life Science Industry Blog for R&D Professionals
Computer Systems Assurance – Developing a Plan to Get There
What is the New CSA approach
The new CSA approach focuses on critical thinking and objective analysis and evaluation versus the CSV's approach which has a much larger emphasis on documentation. The CSA method leverages targeted testing to achieve results. With CSA, the documentation remains important, however, the larger focus is on testing and on those areas that are critical to patient safety and product quality.
Why Move to CSA?
Before we discuss the steps that should be taken to move to CSA, why should an organization move to this new approach? A recent study that was done sheds some light on this. In December 2020 by the Medical Device Innovation Consortium (MDIC) Case for Quality Forum, the FDA and industry partners highlighted the results and benefits companies have achieved with CSA, including:
90% or higher reduction in test script and tester errors
Validation time was cut 50% or more, with faster implementation overall
Lower total project cost
Higher morale, quality, and productivity
More time for critical thinking versus generating documentation 1
Who is Looking to Implement CSA and What are their Concerns?
Another question that comes to mind is, are organizations actually planning on moving to CSA and why? Also what are their concerns about moving to this new method?
In January 2021, the FDA-Industry CSA team during a live webinar asked more than 570 industry peers, practitioners and subject matter experts several questions related to CSA.  The following were the results.
The question was asked, "When will you start implementing CSA?"
46% immediately or this year
47% unsure
7% had no plans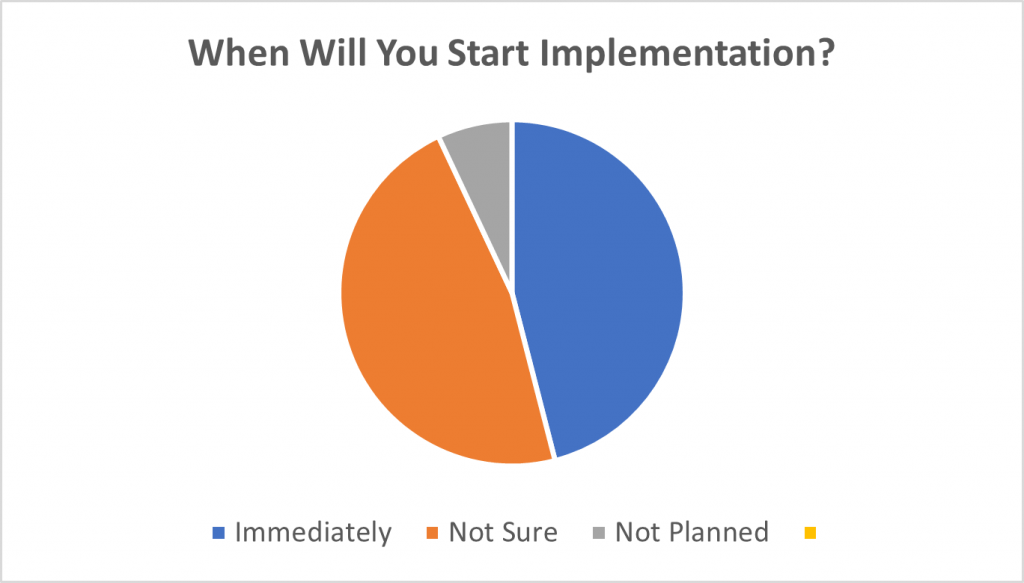 Source: American Pharmaceutical Review
Another question was asked, "If unsure or no plans (54%), what is preventing you from adopting CSA?"
40% need help implementing
33% waiting for other
27% were facing internal resistance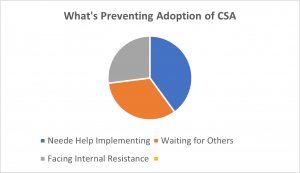 Source: American Pharmaceutical Review
For organizations who are among those planning to transition to CSA or are one of those who are unsure or have no immediate plans currently, the below information will be of value, if and when the business decides to move.
Developing a Plan to Get to CSA
There's an old saying that if you fail to plan, you plan to fail. Having a plan to proceed forward with CSA is crucial to an organization's success. Given that is the case, the below steps are the best practices for expediting the transition to CSA.
Evaluate current environment and validation process – How much time is the business spending on planning, testing, designing, documenting, and other areas along with current processes and resources.
Leverage metrics to understand current environment – To better understand the current operation the organization should apply metrics. The metrics should measure the performance and include costs, time spent on validation, and cut across multiple aspects of the business. The areas to include are

People aspect– measuring the performance against objectives along with skill levels of team members
Process aspect – to evaluate operational processes, both qualitative or quantitative methods can be used. This can assist in assessing what areas are running well.
Product aspect – measure the specific criteria that will assist research, manufacturing, and marketing in understanding the success of product and product characteristics (i.e. testing, number of deviations, quality, etc.).
Project aspect – measure key performance indicators (KPIs) associated with project management and project control. A few areas to measure would be quality of deliverables, schedule variance and performance, cost associated with missed deadlines, work-in-progress, cancellations, and customer satisfaction. 2

Build a plan to transition– Plan how business will implement the CSA approach. How will the organization transition resources and processes over to the new approach that will focus on critical thinking related to patient safety, product quality, data integrity, operational efficiency, and effectiveness.
Perform a vendor audit – Review vendor's documentation to determine the quality and applicability of their SDLC as well as other IT processes.
Create a change management plan – Put in place the right communication and training programs to support the business's people in this transition. This includes shifting the culture from an organization focused on a compliance-centric mindset to a quality focused culture. The key is to ensure understanding of the core concepts related to CSA including critical thinking, the risk-based approach, and the focus on patient safety, product quality, data integrity and those activities that focus on these areas. 3
Ensure Strategy and Execution are in synch – As the business proceeds through implementation, the execution of the various steps should tie back to the strategy developed. The organization should ensure this connection to ensure success.
Conclusion
Transitioning to CSA is not easy for any organization and having the right internal and external experienced professionals to achieve success is paramount. Developing a plan that properly assesses the current processes and incorporates the right metrics to measure the various aspects of the business is also extremely important.  Additionally, ensuring there is good communication across the organization as well as proper training is also imperative as is ensuring the culture of the organization is prepared for the transition. Having a strategy and ensuring that the execution is closely tied back to that strategy assists the organization in ensuring a successful transition to CSA.
Why It Matters to You
Transitioning from CSV to CSA entails a significant amount of planning, however, the outcome is well worth the effort. This blog provides the key steps to be successful including.
What to review with your current validation process.
What metrics you should focus on across the organization.
What things to consider with a transition plan.
The role communications and training plays in the transition.
About Astrix
For over 25 years, Astrix has been a market-leader in dedicated digital transformation & dedicated staffing services for science-based businesses.  Through our proven laboratory informatics, digital quality & compliance, and scientific staffing services we deliver the highly specialized people, processes, and technology to fundamentally transform how science-based businesses operate.  Astrix was founded by scientists to solve the unique challenges which science-based businesses face in the laboratory and beyond.  We're dedicated to helping our clients speed & improve scientific outcomes to help people everywhere.