Download our latest eBook – Bioinformatics:  The Future of Life Science Research and Development
Bioinformatics is one of the most rapidly evolving tools for accelerating life science research and biopharmaceutical development. As high throughput technologies become mainstream applications within the laboratory, the vast amount of data generated houses a wealth of information, providing you can unlock the door of understanding.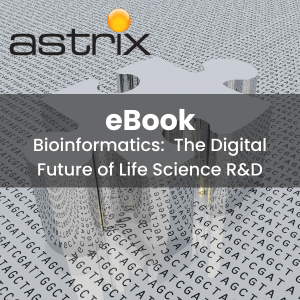 Fill out the form on the right to access your free copy now
Learn About Astrix LIMS Services
Astrix' LIMS Implementation services include:
Business requirement analysis
Project management
Cloud Migration
Solution architecting
Design and implementation
Data migration
Performance management
System integration/consolidation
Configuration
Testing and transition
User training
Our implementation services begin with  a thorough understanding of your Laboratory's needs along with mapping current workflows to determine a best vendor fit.  We work to ensure the LIMS implementation is low-risk and highly adopted because we strive to match the right software with the right customer based on needs, skillsets…etc.
Learn more about the technology platforms we support:
Keep up to date with our popular blog!
Here's some recent articles!