Expert news and insights for scientific & technology professionals.
The Life Science Industry Blog for R&D Professionals
Highlights from the 2018 Bio-IT World Conference & Expo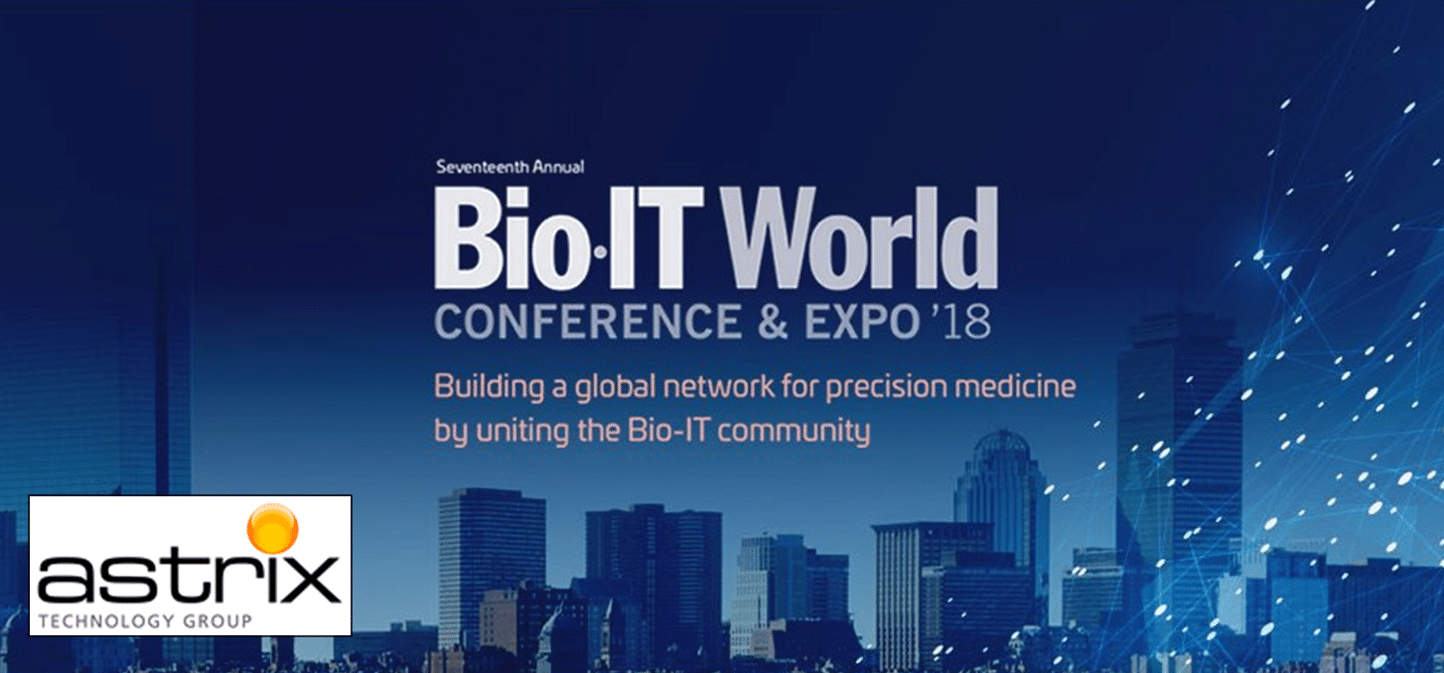 Boston, MA. May 15-17, 2018
Since its inception in 2002, the annual Bio-IT World Conference & Expo has become a premier event for showcasing the wide-array of IT and informatics applications and enabling technologies that drive biomedical research, drug discovery & development, and clinical and healthcare initiatives.
This conference brings together thousands of attendees looking to navigate the new era of precision medicine and build collaboration across the bioinformatics and life sciences industry. Themes discussed at the conference range from the research realm to the clinical arena and include: big data, smart data, cloud computing, trends in IT infrastructure, omics technologies, high-performance computing, data analytics, open source and precision medicine.
The Bio-IT Buzz
The 2018 Bio-IT World Conference & Expo in Boston, MA saw over 4,000 attendees from all over the world come together to explore the latest innovations in data and computing to advance medicine. This year's conference had 16 tracks focusing on advancing science through data and computing, keynote speakers, pre-conference workshops, hundreds of technology and scientific presentations, industry awards and more.
Machine Learning Track
There was much interest amongst attendees in the Machine Learning track which explored how to utilize data analytics, artificial intelligence (AI) and machine learning to further medicine. The role of computer science in modeling cells, analyzing and mapping data networks, and incorporating clinical and pathological data to determine how diseases arise from mutations is becoming more important in genomic medicine. There is a need to understand where the disease starts and how artificial intelligence delivers genes and pathways for drug targets and diagnostics.
There were a number of interesting sessions in this track that explored these topics. Ted Slater, Global Head of Scientific AI & Analytics at Cray Inc., chaired a session entitled Machine Learning and Artificial Intelligence in Cancer Informatics. This session explored the role of AI in developing personalized treatments and therapies for cancer, as well as of AI embedded applications that diagnose diseases to ensure quick, accurate treatments for patients.
Another interesting session in this track was entitled Data Management and Analytics: Enabling Data Science and Machine Learning. In this session, Joerg Degen, Project Leader of Research Informatics at Roche, shared information on the comprehensive platform that Roche has developed to facilitate big data analytics and application of predictive models using in-house machine learning approaches. Other speakers in this session explored clinical use cases for machine learning and deep learning, as well as the use of GPU and FPGA 'accelerators' and new universal-scale file storage methods to handle increased data volume utilized by machine learning and AI.
Data Transfer Track
Another track that captivated much interest amongst attendees was the Data Transfer track. This track addressed the need for life science companies to expand flexibility and reliability, as well as speed, security and scalability, to data migration/transfer activities. Case studies were used to highlight hardware and software enterprise data management solutions that facilitate high-speed data transfer to enable productivity and foster collaboration.
One interesting session in this track was entitled Data Management: Overcoming Legal Matters and Operational Roadblocks. In this session, John M. Conley and William Rand Kenan discussed the changing legal environment for data management in terms of the recent major legal changes affecting data collection, storage, transfer, and use. In the U.S., for example, a major revision to the Common Rule for human subjects research will take effect in early 2018, the Federal Trade Commission has unexpectedly moved into the regulation of health data, and the federal government has interpreted HIPAA to expand patients' access to raw genomic data. Another interesting presentation in this session was given by John Keilty and Karina Chmielewski of Third Rock Ventures in which they discussed the development of a reusable cloud-based infrastructure to address the significant data management challenge experienced by growing biotechs.
Pharmaceutical R&D Informatics Track
Pharmaceutical companies generate and collect data from a number of sources, including R&D, clinical, translational, genomic, and health records, and these companies must effectively manage, integrate, and analyze this data to enable more informed decision-making. Ensuring this data is of a high quality, consistent, and correct is key to analyzing data and developing actionable insights. This track explored the progress made in the integration and analysis of complex data sets, generated both internally and externally, and real-world data to transform R&D and drive precision medicine.
Astrix Workshops at the Bio-IT World Conference & Expo
As part of our efforts to support the mission of the Bio-IT Conference & Expo, Jeff Policastro, Vice President of Business Development and Strategy at Astrix, conducted a half-day pre-conference technology workshop entitled Lab Informatics: An Insider's Guide to Project Success. In addition, Astrix chaired two different sessions at the conference entitled Lab Approaches to Actionable Data and Precision Medicine Implementation and Applications of Data Integration.
Jeff Policastro's workshop on laboratory informatics brought together a dozen attendees seeking to learn about best practices for ensuring the success of laboratory informatics project's and selecting the right system(s) for future needs. The workshop addressed the full lifecycle of an informatics implementation including Assess, Build, Run and Maintain strategies. There was emphasis on the people aspect of these projects as well as how to ensure value delivery. In addition, real life implementation scenarios were openly discussed, along with various strategies that could be applied to each project to course correct the project specific challenges. Jeff also spent some time addressing attendees' specific questions such as, "How do I address an impasse between two groups to move a project forward?" and "How do we implement a single LIMS platform for both our regulated and un-regulated businesses?"
Conclusion
The 2018 Bio-IT World Conference & Expo was a great success. This event continues to be an excellent venue for bringing together innovative people from all areas of life sciences for expert commentary and industry insight, and Astrix looks forward to continuing to contribute to the conversation on the IT innovations that best support the new era of precision medicine.
Astrix specializes in supporting the Life Sciences sector with laboratory informatics strategic planning, vendor selection, development, implementation, integration, managed services and scientific staffing. Our experienced professionals have the skills and expertise necessary to architect, implement, integrate and support best in class solutions for your organization's laboratory environment. If you would like to have an initial, no obligations consultation with an Astrix informatics expert to discuss your laboratory informatics strategy or any challenges that you are experiencing in this area, please feel free to contact us.