Expert news and insights for scientific & technology professionals.
The Life Science Industry Blog for R&D Professionals
The Internet of Laboratory Things – Continuing the conversation from the Paperless Lab Academy
The 2017 Paperless Lab Academy just wrapped up in Barcelona, concluding two days of presentations and workshops from leaders in the technology and business sides of laboratory science. Great conversations and a wealth of knowledge were shared between old friends and new colleagues in both formal and informal sessions at the Gran Hotel Rey Don Jaime in Castelldefels, a short distance outside the city. I am sure everyone shared my sentiment that it was well worth the trip.
On behalf of Astrix Technology Group, I want to thank the participants for their attention at my presentation on the topic of the Internet of Laboratory Things, where I discussed some of the objectives of IoLT and how labs can achieve results without hiring an army of Data Scientists. We have learned many lessons from other industries and can take advantage of those lessons in the laboratory, including the use of rapidly deployable cloud environments for IoT instead of building it ourselves, collecting as close to "everything" as possible to get the greatest insights, connecting research to manufacturing, using predictive analytics and automation, and leveraging visualization tools to answer "questions we never thought to ask" in an automated fashion.
I would like to continue the conversation with everyone. As a first step, I am offering access to my presentation materials from the conference as well as a blog entry on this topic. In the future, we will also be providing more information on this and other exciting topics in applied technologies. Please join me in continuing the conversation in this way or in person.
You can access the presentation materials by clicking on the thumbnail below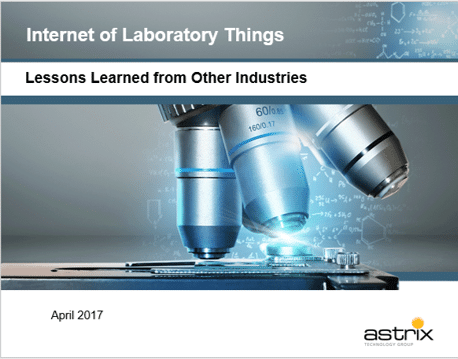 About the Author
Dale Curtis Jr. is the President of Astrix Technology Group. For over 18 years, Mr. Curtis has built an impressive track record of leadership and success in high technology/scientific enterprise software sales, business development and service delivery. He has proven talent for driving innovative operational and marketing strategies, building successful teams, and rapidly developing new markets for start-up companies as well as multimillion-dollar global technology enterprises.

 

Mr. Curtis holds a B.S. in Chemical Engineering from the University of Virginia and an M.B.A. from the Drexel University LeBow College of Business.