Expert news and insights for scientific & technology professionals.
The Life Science Industry Blog for R&D Professionals
Measuring the Success of a Digital Transformation
Digital transformation has become the top priority for scientific laboratories and quality manufacturing sites across the globe. The path to achieving a successful digital transformation initiative is often unclear with the many considerations and challenges to the best possible approach to address the specific needs of your organization.
With significant investments being made into digital transformation, organizations are naturally asking the question, "How do we measure the success of a digital transformation program?" While everyone will have a different perspective on this, it is with unanimous agreement that measuring the success of a digital transformation if not a straightforward or easy task. By nature, digital transformation is a never-ending journey because it's more of a continuous transformation. There is no finite endpoint to it, so how do you measure the success of a program that does not have an end? It's like you're claiming a victory when the war is still ongoing.
A Final Victory is a Succession of Small Victories
Companies in the early stages of a digital transformation program often have the expectation of completion within a year's time. Realistically, digital transformation is an evolutionary journey with the average duration closer to the three to five year range, depending on the business drivers and the digital maturity of your organization.
One of the important things before you embark on this multi-year journey is to make sure you have a roadmap with a well-defined plan for coordinating an effective approach to your digital transformation strategy. This plan should also include a data roadmap. In today's data centric world, it is critical to determine how you are going to pull data together from many disparate sources across the entire organization.  Rationalizing your data strategy and governance is essential to the success of your program. Establish how you're going to integrate and harmonize your data, and really, how you're going to use it, even before you start thinking about systems, applications and all the other new technologies available on the market today.
"A final victory is a succession of small victories."

― Bangambiki Habyarimana, The Great Pearl of Wisdom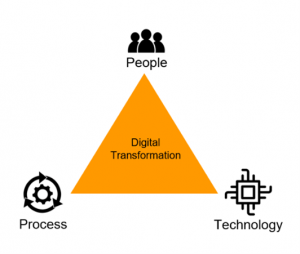 Each stage of your roadmap is a stepping-stone that will ultimately lead you to your end goal. Recognizing the successful completion of these critical segments along your journey will not only foster enthusiasm across the team to continue down the long path to transformation but will also assist in managing the expectations of the broader program team.
For example, take stock of the digital maturity program that you have today and if the roadmap that you have is moving your digital maturity curve in the right direction. The processes and the technologies you're using, are they maturing over the time? Is your current implementation moving from a point solution to an on-prem or into a cloud? If your processes today are manual, are they becoming more intelligent and automated? Those are all the milestones that you can actually claim as small victories and celebrate along the digital maturity curve. Additionally, you can have tangible KPIs and metrics to measure those, more from an operational standpoint.
In terms of the Quality function, if you look at the maturity model from an operational standpoint, what are your operational efficiency gains and metrics measured as part of that? If you focus on CAPAs for example, which represent the biggest pain points, are they going down or are the deviations going down? Are your review and approval times decreasing? That translates directly to your cost and it actually brings your total cost of quality down, so that can be easily measured.
An Evolutionary Measure of Success
Each organization has to prioritize why they are doing a digital transformation and what it means to their business. Some are doing it to remain competitive, others because of efficiencies. If they're not an efficiency organization, they may want to change the workforce and mix it up or have remote workers, so there's a dozen different reasons and objectives for digital transformation. Once you figure out the 'why', then those measurement metrics become an ongoing evolutionary measure of success.
While each organization will have a different set of KPIs, some of the classic ROI type measurements would be around efficiency and quality, but when it comes to digital transformation, the clue's kind of in the name. You're doing things that are perhaps fundamentally not possible today or are really hard, so how do you measure the difference between the before and after cases? It's pretty tough to do that if it's truly transformative.
A lot of our programs and our methodologies around ROI analysis before and after are all based upon incremental improvement. If you're truly running a transformative program, and that is your goal, then you need to have high level reasons for why you're doing it what you are trying to achieve, like breaking through into new markets. Those things are going to be by nature very difficult to quantify.
As you are moving through the roadmap, each step in the road, you should be able to put together four or five bullets about what do you get from this step, what do you get from the next step and so forth. Somebody has to keep the bigger picture in mind that all those things are adding up to the path but measure success by doing it one a step at a time. Trying to invent KPIs and put together some fancy dashboard for a three to five year journey is just not a very productive use of time. Make sure the steps that you're taking are actually quantified, measurable, you're checking them off and that they're in alignment with where you're trying to get to in the end.
Summary
What you are really doing through digital transformation is modernizing your business, you're not digitizing your business. So, as you are modernizing your business, use the available technology to help move the business forward because if you don't, you're going to be in the dark ages. It's like the first time you adopted IT to start with, if you didn't do it you're out of business, so this is just an evolutionary process of moving the business forward. Therefore, you're going to start measuring things at the high level not at the technology level. Your measurement of success is more of a qualitative assessment of whether what you are doing is taking you forward a step on that journey, towards your wider corporate goals.
One last thing worth mentioning is that digital transformation is a three to five year program. The other challenge that comes into play is that the digital landscape changes so fast,  you need to have a process in place to make sure that you're continuously monitoring the pulse of the digital landscape so you can go back and redo or make adjustments to your strategy if there's new smart innovation technologies coming out. How much of an effort is it going to be for you to kind of make that change? Is that going to be a significant effort? You just need to make sure that your strategy is open enough to accommodate some of those disruptions that are going to happen while you go through this journey.
Why It matters to You
Digital transformation touches on three fundamental principles: People, Process and Technology. Not any one of those is the answer, they all have to work in unison and evolve to digitally transform a laboratory, an ecosystem, or an organization. If you are running a truly transformative program, the high level reasons for what you are trying to achieve will by nature be very difficult to quantify.
Digital transformation is a journey towards the modernization of your business with varying degrees of technological advancement that is happening. Your measurement of success is more of a qualitative assessment of whether what you are doing is taking you forward a step on that journey, towards your wider corporate goals.
It's important to have a really good understanding of the objectives and the 'why' behind doing a digital transformation within your organization and clearly defining those outcomes and that roadmap will help guide your path of milestone successes over the next three to five years.
While each organization will have a different set of KPIs, some of the classic ROI type measurements would be around efficiency and quality, but when it comes to digital transformation the progress is based upon incremental improvement.
About Astrix
For over 25 years, Astrix has been a market-leader in dedicated digital transformation & staffing services for science-based businesses. Through our proven laboratory informatics, digital quality & compliance, and scientific staffing services we deliver the highly specialized people, processes, and technology to fundamentally transform how science-based businesses operate. Astrix was founded by scientists to solve the unique challenges which science-based businesses face in the laboratory and beyond. We're dedicated to helping our clients speed & improve scientific outcomes to help people everywhere.