News & Events
News and Insights for Scientific Informatics Professionals
BioIT World 2018 Workshop – LAB INFORMATICS: AN INSIDER'S GUIDE TO PROJECT SUCCESS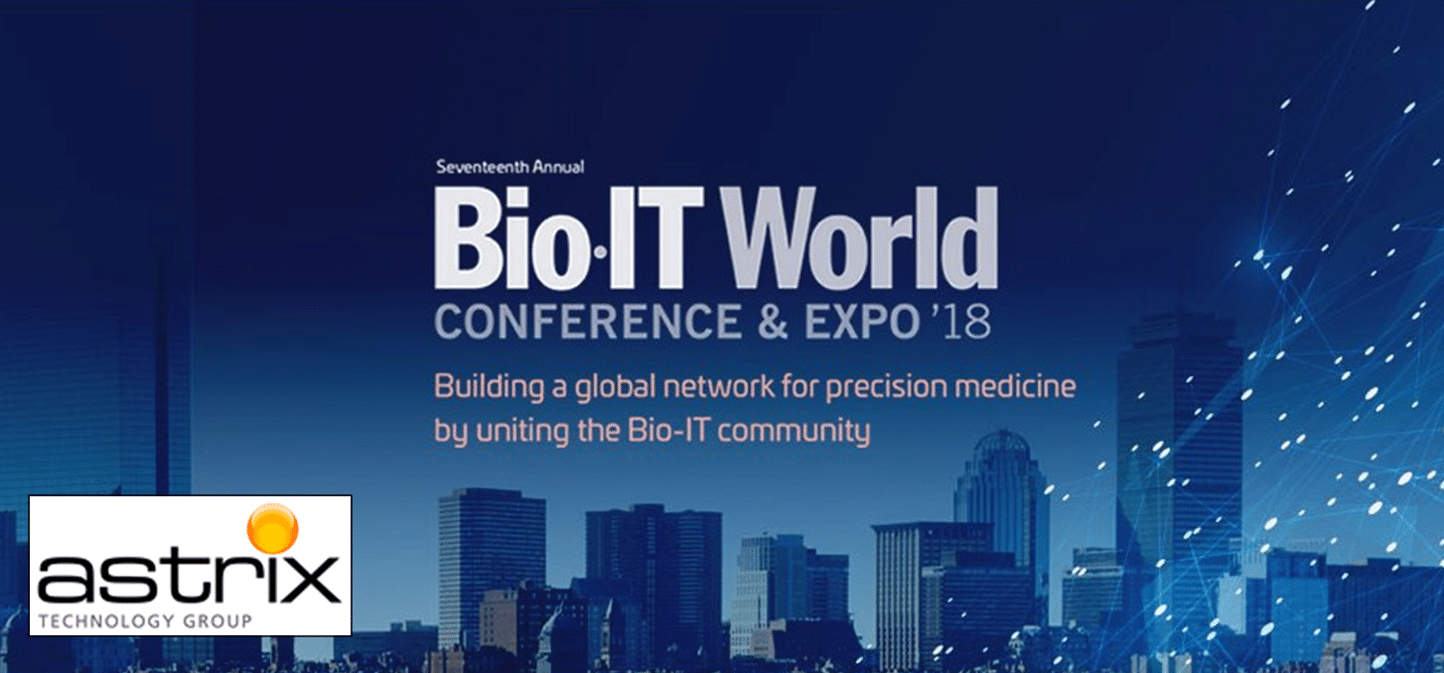 Astrix Technology Group is chairing a workshop at BioIT World 2018 in Boston.  The topic of this workshop is Lab Informatics – An Insider's Guide to Project Success.  For information on how to register for BioIT world – Click Here.
About the Workshop
Modern laboratories utilize a variety of software solutions to capture, manage, and deliver analytical results to their internal and external customers. These informatics systems such as LIMS, LES, and ELN are highly configurable and can accommodate any nearly any process imaginable. However, few labs have a strategy to ensure successful implementation and/or integration of these systems. As a result, labs do not gain the efficiency, productivity, quality and cost benefits that they may have communicated in their business case. This workshop will help project team members understand the pre-implementation activities, business requirements, process optimization opportunities, and implementation needs to prepare for an efficient and successful implementation.
Workshop Agenda
12:30 Assessment of the LIMS, ELN, and LES Products Available on the Market
Laboratory informatics systems have come a long way since they were first developed in the early 1980s. Due to their overall utility, there are hundreds of different LIMS, ELN and LES systems available from dozens of vendors. This talk will provide an overview of vendors in the laboratory informatics space, along with a discussion of market growth and trends.
1:00 The Benefits and Challenges of Laboratory Informatics
Today's laboratory informatics systems are both robust and flexible, allowing for end-to-end data management across the full project life-cycle. This talk will discuss some of the benefits (e.g., improved process efficiency and compliance, enhanced innovation, etc.) of utilizing these technologies in your laboratory, along with the most significant challenges (e.g., legacy systems, excessive customization, integration, version lock, etc.) that organizations experience with informatics systems.
1:20 Planning
Success in laboratory informatics projects can be particularly difficult to achieve, due to the complex processes and technologies utilized in labs, and the many different aspects of the enterprise that laboratory systems touch. One of the biggest mistakes companies make when starting an informatics project is to not do the strategic planning necessary to ensure success. This talk will discuss strategic planning as part of a comprehensive and proven methodology to help ensure the success of your laboratory informatics projects.
1:40 Selection and Justification
After the strategic planning is complete, the vendor selection process can commence. Additionally, to ensure the successful implementation of the chosen technology, it is necessary cooperative atmosphere between stakeholders that leads to project success. Towards this end, having the leadership team aligned across your organization by understanding the purpose, value, and rationale for a project is critical. In this talk, we will discuss how best to conduct the vendor scoring process and select a technology, as well as developing the business case to present to leadership.
2:00 Refreshment Break
2:20 Implementation
System Development, Implementation and Integration is the nuts and bolts of any informatics project. This is where the technology, user and business requirements that were developed in the strategic planning phase are implemented to ensure business value for your organization. In this talk, we will discuss best practice recommendations for system implementation and integration with business systems and instruments.
2:50 Case Studies – The Good, the Bad, and the Ugly
In this talk, relevant case studies will be discussed that illustrate topics of discussion in this workshop.
3:40 Speaker Q&A
4:00 End of Workshop
Latest News