Expert news and insights for scientific & technology professionals.
The Life Science Industry Blog for R&D Professionals
Predictive Chemistry – Accelerating Innovation in the Specialty Chemicals and Materials Science Industries
Predictive Chemistry has the potential to transform the specialty chemicals and materials science industry and power the digital lab of the future. The market is demanding 'cleaner and greener' products, coming from renewable energy sources, with regulatory hurdles increasing because of these initiatives. To address this new dynamic in the marketplace, companies are focusing their efforts on defensive reformulation and offensive new product development. However, developing and monetizing new chemicals and materials is time consuming and expensive, with no guarantee of success. Enabling tools such artificial intelligence (AI) and machine learning (ML) can accelerate this process but are often difficult to actualize and execute.
---
Data Quality: The Key to Leveraging AI and ML
Single purpose tools such as CRMs, formulation tools, LIMS, ELNs, ERP and paper-based processes make it difficult for specialty chemicals and materials science companies to operate efficiently or run AI/ML applications. These systems are often siloed and do not have the data management infrastructure to allow companies to achieve the next frontier of incorporating AI/ML within their business processes or into the design and creation of products. Data accuracy and incomplete data records can also negatively impact the legitimacy of models that are generated using AI/ML solutions.
The data generated by these tools suffer from these common problems:
CRM: Opportunity data is disconnected from the lab data
Formulation tools: Very structured but are missing critical context and connections to test result data
LIMS: Highly structured but not very flexible, containing a subset of test results related to samples, but not to formulations
ELN: Very flexible, but so unstructured, unformatted, unlabeled and incomplete that connections to test result data are often missing
ERP: Limited to production formulations
The harmonization of data throughout your laboratory and business processes can be achieved by following the rules of "The Five C's":
---
Poor data infrastructure kills the efficiency required to compete today and inhibits AI which will be required to compete tomorrow.
---

End to end visibility and harmonization of data, all the way through to scale up, is required not only for process optimization but is critical to accelerate time to revenue on new product development by automating time-intensive, manual processes and running AI/ML in the lab.
The Alchemy Effect
Specialty chemicals and materials sciences companies have new application testing methods coming in on a frequent basis. Large organizations have reported as many as 1,000's of projects coming in per year, all ineffectively managed by these data silos.
The opportunities that come into the company are often at the request of customers and need to be applied to what the customer is specifying, are required to be manufactured, and rely on customer feedback as to whether or not they are working with their application or product. The timeline for these activities could take a month, a quarter, or a year. In comparison, the average R&D timeline is generally in the 5-to-10-year range. This higher velocity of projects, inherent to specialty chemical and materials science companies, make it extremely difficult to quickly and effectively mimic this influx of new workflows within their ecosystem of segmented technologies. Additionally, it would require significant expense and resources to efficiently incorporate new formulations, updated testing software, or AI/ML applications and is not a viable long-term strategy for success to remain competitive in an evolving market.
Alchemy is a Silicon Valley-based cloud software company that helps specialty chemicals and materials science companies modernize how they work to accelerate the development, sale, and servicing of their formulations. Alchemy's novel software platform can digitize laboratories in less than 60 days, allowing them to generate applications that are based upon the kind of work being done in the lab, the inventory of test methods employed, and the type of equipment or systems that are being used within the laboratory environment.
The Alchemy platform is the tool that finally bridges the data transfer gap between CRM and ERP, managing all the siloed applications surrounding material characterization, formulations, application testing and ultimately driving that all the way to the scale up process. Alchemy also supports connectivity to legacy LIMS providers, serving to maximize the value within those system by creating a holistic laboratory solution, required for achieving a truly digitized laboratory.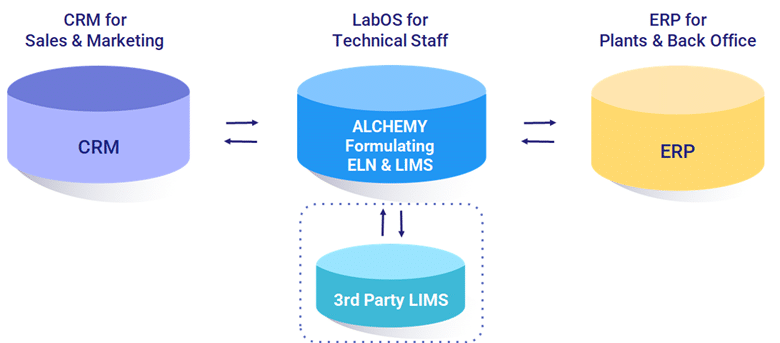 Alchemy's open API infrastructure enables seamless integration between CRM and ERP, allowing data scientists to easily connect relevant data by supplying the important user interface for AI/ML predictions and feedback loops. The system workflow enforces data verification, validation, and labeling to provide data that is clean, connected, and contextualized in a unified data model.
Conclusion
To keep pace with today's digital revolution and evolving customer demands, companies must adopt new, game-changing technologies to foster innovation and retain a competitive advantage in the marketplace. Current trends support the immediate need for incorporating AI/ML enabling tools within the specialty chemical and materials sciences industry, however this has been difficult to actualize due to the unique challenges of their laboratory and business workflows.
The potential value of predictive chemistry is everywhere and enterprises across the globe have added "pursue AI" or "technology innovation" to their corporate strategies, however, these efforts have to date not provided the results organizations have hoped. To accelerate your predictive chemistry initiatives, Alchemy provides the holy-grail solution that has been long sought after and an actionable roadmap to make predictive chemistry a reality.
Predictive chemistry is elusive without AI/ML-ready data. Most lab teams grapple with a wide array of single-purpose tools which create data silos, populated with incomplete and inconsistently labeled data. Trying to run AI/ML on disconnected, "dirty" data results in low predictive value, leading to inaccurate and/or incomplete data modeling and lost productivity. Alchemy's integrated cloud platform enables the aggregation of data across the entire ecosystem of single-purpose tools and software, providing the digitally connected laboratory to transform your lab's productivity, allowing your teams to deliver better solutions faster to meet the needs of your customers and the ever-changing demands of the market.
Why it Matters for You
Predictive chemistry will transform the specialty chemicals and materials sciences industry by accelerating product development, thereby speeding time to revenue. Enabling tools such as AI and ML, powered by interconnected data, sustains predictive chemistry success in the following ways:
Predictive chemistry speeds your understanding of cause-and-effect relationships between ingredients, technical or functional performance, and structure-property relationships.
End to end visibility of data all the way through to scale up is required not only for process optimization but is critical to accelerate time to revenue on new product development by automating time-intensive, manual processes and running AI/ML in the lab.
Predictive chemistry is elusive without AI/ML-ready data. Using Alchemy's integrated cloud platform provides clean, aggregated data across the entire ecosystem of single-purpose tools and software to facilitate AI/ML enabling tools.
Customer turnaround time can be significantly increased by improving and digitizing data accessibility and enabling real-time search capabilities.
Sample 'fit for use' can be improved with better product match and facilitation of digital feedback on all samples that go out in a digitally integrated lab environment.
Establishing an actionable roadmap with the Alchemy software platform at its foundation makes predictive chemistry a reality.
About Astrix
Astrix partners with many of the industry leaders in the informatics space to offer state of the art solutions for all of your laboratory informatics needs. With over 25 years of industry proven experience, Astrix has the informatics specialists and business process analysis tools required to develop and implement the solution that works best for your enterprise. Our domain experts have helped hundreds of companies globally effectively navigate their digital transformation journey, connecting people, processes and systems to accelerate the advancement of science and medicine.