Expert news and insights for scientific & technology professionals.
The Life Science Industry Blog for R&D Professionals
Quality 4.0 & Digitization – Key Consideration for the Life Sciences Industry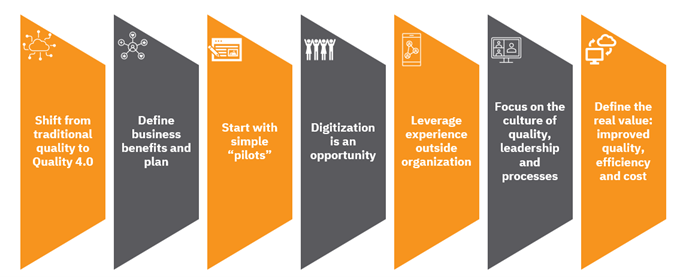 The advances in technology in the past decade have resulted in a new industrial revolution. This is frequently referred to as the fourth industrial revolution or "Industry 4.0." The revolution is being driven by the exponential growth of disruptive technologies and the changes that those technologies are bringing to business and the markets that organizations serve.  Quality 4.0 is a term that refers to the future state of quality and organizational excellence. This is within the framework of Industry 4.0. This new Quality of the future requires leading the organization to apply proven quality best practices along with new digital disruptive technologies.  We discuss here some areas to consider as an organization moves towards Quality 4.0.
The Shift from Traditional Quality to Quality 4.0
With Quality Management 4.0, organizations need to deliver quality at a much faster pace based on what the business and the customers want and need. The shift is from the traditional quality approach to Quality 4.0 which is the  intersection of traditional quality, analytics and data governance and the adoption of new technologies.
Business Benefits
For digitalization to be effective, organizations need to be able to define the business benefits. The quality leaders need to sit down with the business stakeholders and have a focused conversation on ensuring that everyone is clear on the desired outcome. Once the quality organization is confident that they understand the business needs, they can setup the right processes for them to get those benefits. It might not happen overnight, but if the quality group is reviewing it and tweaking, changing, and updating based on those expectations, the organization will reach its quality objectives.
Start with a Pilot
When moving to Quality 4.0, a use case is a good start. The quality organization's first use case should be simple. It should not be something as drastic as changing the way that the company does its entire CAPA or nonconformance process. Instead, for example, the quality team could start with a Robotic Process Automation (RPA) to identify and report CAPAs.  With this process, the quality team can collect, through systems, all data and then report on that data. Organizations can use this as a simple use case.  As the business starts looking at this current use case, it will highlight and focus the organization on other opportunities where there are process steps that can be improved. Through this iterative process,  a pilot becomes a project, and the project becomes a program.
Digitization is an "Opportunity"
Digitization is not just limited to quality. It should work in tandem with the organization's goals and vision as well as follow a similar roadmap. The Quality team should work together with IT to use the technology to drive optimization and efficiencies across the Enterprise and not just the quality aspect.
Leverage Experience Outside your Organization
Life Sciences organizations need to look at what is happening outside of the business. There are  many industry groups and conversations that can be had with people outside the business. For  example, the processing of CAPAs discussed earlier came from an idea of using RPA to process loan applications. However, the RPA process could be easily modified into the CAPA realm because the data was similar in the way that it was captured and  used  in the process. So, by looking at what other industries, peers, are doing, it can help with the building of use cases for digitization.
Focus on the Culture of Quality, Leadership, and Processes
From a culture of quality perspective, organizations should focus on leadership and the processes that are enterprise wide. Performing digitalization for one process in one location might be a good pilot, however, the focus should be on what can be done across the enterprise. By having buy-in from both  IT and business together, the speed of digitization is greater.
Define the Real Value: Improved Quality, Efficiency, and Cost
To identify the return on investment there is a need to define the real value that the organization is receiving. The focus should to be improved quality, while also considering efficiency of  processes, and ultimately cost associated with quality management. Value has to be defined in those three parameters at a minimum.
Conclusion
The road to Quality 4.0 requires a new mindset. One that focuses on the organization's culture towards quality and leadership and communicating the direction across the enterprise. It requires reaching out beyond you're the organization to become acquainted with what is going on in your industry, but also other industries since new approaches could be applied to your business. The idea of leveraging technology needs to go beyond the quality area and work together with IT. Ultimately, the objective is to improve quality through greater efficiency of processes and lower costs.
Why it Matters to You
This article is important to Life Sciences organization because:
Businesses are being asked to deliver quality at a much faster pace and therefore need the right plan and tools to be successful.
In order for digitalization of the business to be effective, organizations need to be able to define the business benefits.
Organizations need to define how they will approach use cases to in order to ensure success.
Organizations need to understand the importance of a culture of quality, leadership, and the right processes and how they are connected.
For more ideas and information on digital transformation of your quality organization, you can watch our webinar on Driving Growth through Digital Quality and Compliance
---
For over 25 years, Astrix has been a market-leader in dedicated digital transformation & dedicated staffing services for science-based businesses.  Through our proven laboratory informatics, digital quality & compliance, and scientific staffing services we deliver the highly specialized people, processes, and technology to fundamentally transform how science-based businesses operate.  Astrix was founded by scientists to solve the unique challenges which science-based businesses face in the laboratory and beyond.  We're dedicated to helping our clients speed & improve scientific outcomes to help people everywhere.