Expert news and insights for scientific & technology professionals.
The Life Science Industry Blog for R&D Professionals
Selecting a Managed Services Partner for Laboratory Informatics
Scientific organizations face ever increasing pressure from business stakeholders to reduce costs while improving operational efficiency, scalability, and agility.  Laboratory research is more complicated and dependent on informatics than ever.  IT organizations are seeking a solution through the development and deployment of an integrated laboratory informatics strategy and infrastructure.
Yet making the transition to an integrated laboratory ecosystem, along with the task of supporting, maintaining, and evolving it once attained, requires substantial IT work and resources.  Now more than ever, companies are struggling to find ways to effectively scale laboratory operations with fewer internal resources and the need for remote capabilities to accommodate off site work.
In this blog, we explore how scientific organizations can benefit from partnering with a third-party informatics provider with specialized scientific expertise to help support and maintain laboratory systems.  We also highlight the key selection criteria to consider in choosing the most appropriate managed services provider (MSP) for the individualized needs of your business.
What level of MSP support does your business need?
Before embarking on selecting an MSP partner, make sure to fully know the needs of your laboratories.  It is critical to understand what the MSP scope will cover.  Will this be a program for just laboratory computing?  Is there a portfolio of applications that need L2 and L3 support?
Once the scope is set, the level of service required to support your laboratory operations is next.   Completing a needs assessment will provide the groundwork from which to build a managed services program tailored to your unique scientific laboratory requirements and aligned to the needs of your business.  It is important to first determine the level of service that will best suit your operations.  Considerations surrounding the overall response and resolution times, hours of support coverage required, and geographical locations of the various facilities should be detailed in planning out the requirements for your program.
Much of this is directly tied to the available budget for the service. Your budget assessment will also be an essential factor in optimizing the delivery cost versus performance aspects of the various levels of service available within a managed services program.  Critical support criteria should be prioritized in terms of the level of service to be provided while other factors may be less crucial to your daily operations.  Your prospective MSP should be able to assist with striking the right balance of performance to cost to meet your budgetary requirements.
Selecting the Appropriate MSP Vendor
When choosing an MSP that best suits the needs of your organization, it is important to assess the breadth of the vendor's expertise surrounding your laboratory informatics roadmap.  Do they possess the right scientific background and domain expertise to support the full suite of your laboratory applications?  Often times an MSP will deploy support staff that are not scientists by training. Without the proper scientific background, they may not have the ability to understand the full scope of the scientific processes involved in your workflow, potentially placing the outcome of the project at risk of not meeting the intended criteria.
The lab computing systems and scientific instrumentation in a laboratory may encompass a wide variety of highly specialized applications.  An MSP supporting scientific applications, will undoubtedly support enterprise solutions such as electronic laboratory notebooks (ELN), chromatography data systems (CDS), laboratory information systems (LIMS), and sample data management systems (SDMS) drive laboratory production.  It is imperative for your MSP to have a team of scientific informatics experts in place to support each of the relevant domains. Comprehensive coverage from one provider will streamline support efforts across these many diverse platforms.
Another import aspect of selecting an MSP is in determining their ability to be a technology solutions partner to your organization.  For a Laboratory Computing MSP, support will be needed for a wide array of applications and instrumentation as part of the platform.  Each laboratory system requires life cycle support.  Changes in software and hardware configurations, operating systems, connectivity protocols, data formats, and a whole host of variables make ongoing support of these systems a challenge to maintain and integrate within a common informatics platform.  An agile MSP partner will be abreast of the latest developments within the industry and thereby able to provide recommendations to avoid risk and pitfalls in the process of managing ongoing life cycle support of your laboratory informatics.
Recruitment and onboarding of specialized personnel underpins all of the important areas outlined above.  A reliable MSP will have a recruitment engine as an integral component of their business model.  Standard recruiters in the industry external to the MSP business team will have difficulty sourcing staff with expertise in ELN, CDS, LIMS, SDMS, and other highly specialized areas of application required for fully supporting your scientific laboratory informatics roadmap. The MSP support program will not be positioned to continuously deliver high quality support across a vast array of scientific platforms without the ability to quickly source and train scientific and laboratory personnel having expertise in all of the key functional areas.
---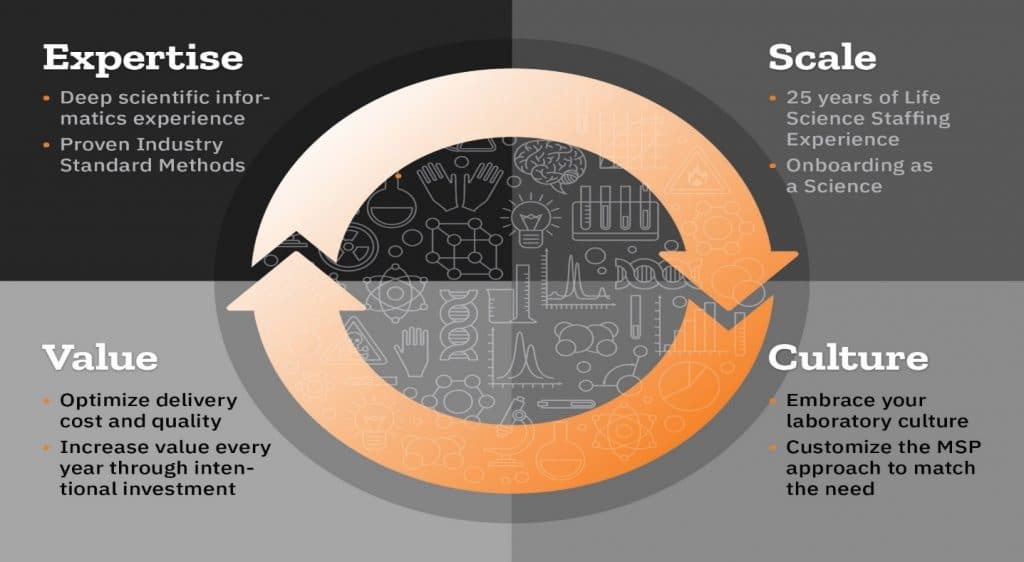 ---
Embracing Company Culture
Company culture is defined by the shared values, practices and beliefs of the company's employees.  Important factors such as how people work, make decisions, resolve differences of opinion and navigate change define the rules of behavior within an organization.  Understanding and embracing the culture of your company shares a level of equal importance to the quality of support provided by an MSP partner.  Sharing the same sense of concern and urgency in the response time and quality of work expectations is prerequisite for an effective alliance with your MSP.  Will they be conducting business in a manner that strikes a balance between performance and cost effectiveness? Selecting an MSP with ability to deliver quality results within the framework of your company culture will establish the foundation for your successful partnership.
A Proven Methodological Approach
A proven methodology serves as the primary building blocks for the effective deployment of any managed services program.  Your prospective MSP partner should employ industry best practices throughout their support delivery approach to provide the most value and highest quality of service to your organization.
Key Methodology for Delivering Support Excellence:
Support from a strategic informatics roadmap
Lead & deliver through one service team
Standardize of all MSP activity per industry best practice
Process documentation to support all delivery activity
Automate systems & processes
Deliver through governance & proactive approach to problem management
Validate & provide regulatory compliance to maintain data integrity
Explore additional Scientific staffing and onboarding services as needed
Astrix Technology Group:  Your Managed Services Partner of Choice
Astrix' 360 Degree Laboratory System Services follows a process driven methodology to provide you with the tools, resources and expertise to optimize the management of your laboratory informatics needs.  With a team of over 100 consultants, each having numerous years of experience in their area of specialty, Astrix can provide expertise across all primary domains within your scientific laboratory. Our professionals have successfully demonstrated the use of industry-wide best practices in the evaluation of work processes, functional and technical requirements, laboratory processes and informatics solution options for hundreds of clients across a wide range of industries.
Conclusion
Selecting a managed services provider that is best suited to address the unique needs of your company can be the solution to effectively scaling your scientific laboratory operations and improving your overall business efficiency.  The Astrix Managed Services team has over 25 years of industry proven experience in providing excellent customer service and the ability to deliver the highest quality MSP experience to your scientific laboratory.
Available services through your Astrix MSP program include:
Helpdesk for Devices, Lab Systems and Users – provides remote helpdesk support for incidents involving lab devices and systems. This service also provides user support and system administration
Laboratory Computing Support – support all PCs that drive the laboratory environment
Informatics System Lifecycle Support – system management and maintenance; data archival and migration; deployment of application updates and patches; creation and maintenance of system validation documentation
Application Organizational Change Management – user training; creating company SOP's, best practices and work templates
Scientific and Technical Staffing – source necessary talent quickly with our scientific and technical staffing services
Astrix Managed Services removes the burden of managing your own laboratory devices and informatics systems, tailored to the level of service and performance that is right for your business needs.